@NCCapitol
New effort to keep Trump off ballots has roots in North Carolina and Jan. 6 attack
The 14th Amendment disqualifies anti-government insurrectionists from holding federal office. Some of Trump's opponents say it should be invoked against him because of the Jan. 6, 2021, attack on the U.S. Capitol. Conservatives say it doesn't apply to Trump.
Posted 2023-09-02T03:09:14+00:00 - Updated 2023-09-03T18:31:08+00:00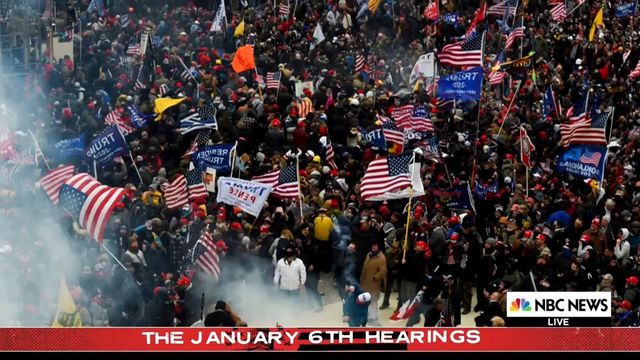 By Will Doran , WRAL state government reporter
A mammoth question is hanging over the 2024 presidential election: Will former President Donald Trump be eligible to appear on ballots at all.
Opponents are hopeful — and supporters fearful — that a variety of criminal charges facing Trump will invalidate his campaign before November 2024. But there's a growing push by some Trump foes to instead use a novel legal strategy based on an obscure part of the U.S. Constitution that has its roots in the Civil War.
It's a strategy that recently got its first test in a century in North Carolina.
A section of the 14th Amendment disqualifies anti-government insurrectionists from holding federal office. And some opponents say that should disqualify Trump because of actions leading up to the Jan. 6, 2021, attack on the U.S. Capitol, which some political activists and legal experts argue fits the definition of an insurrection.
"It's the best way to keep Trump off the ballot," said Bob Orr, a former Republican judge who spent a decade on the North Carolina Supreme Court. "Do I think he's guilty of engaging in an insurrection? Yeah. He's just as guilty as Jefferson Davis was."
Davis, the president of the Confederate States of America, was banned from returning to U.S. politics after the Civil War due to the 14th Amendment. Trump hasn't specifically been charged with insurrection, but some argue that doesn't matter, pointing to a 19th Century legal precedent from North Carolina about that exact question.
A spokesperson for Trump didn't immediately provide a response when asked to comment on the effort to keep him off ballots.
It remains an open question whether courts would agree that Trump should be banned from becoming president again — or, more generally, whether the Jan. 6 attack should count as an insurrection.
Many of his fellow Republicans are staunchly against the idea that Jan. 6 should be considered an insurrection.
"You have to have an armed, domestic war. Not a delay for a couple hours," said James Bopp, a prominent conservative lawyer from Indiana with decades of national experience in election law.
The idea to wield the 14th Amendment's anti-insurrectionist rule has rarely been tested in modern American history. But it came up in North Carolina last year, when a similar argument targeted then-U.S. Rep. Madison Cawthorn, a Republican who represented the western part of the state in Congress.
Cawthorn, however, was defeated in the GOP primary before that court case could be resolved. A similar challenge against Republican U.S. Rep. Marjorie Taylor Greene of Georgia also didn't yield substantive answers. Like Cawthorn's case, it was never fully explored under appeal.
So the key question — whether the Jan. 6, 2021, attack on the U.S. Capitol by Trump supporters should count as an insurrection against the government — remains unanswered.
Bopp defended Cawthorn and Greene in those lawsuits. In an interview, he harshly criticized the idea of using a politician's support of, or involvement in, Jan. 6 as a reason to keep them off the ballot in the future. That's depriving voters of the chance to make their own decisions about what conduct is or isn't acceptable, he said.
"Their goal is to create so much chaos that the question about who can be president will be made by lawyers, judges and bureaucrats," Bopp told WRAL. "Not the voters. Because the people who are supporting this are fundamentally undemocratic."
The people behind the push
So far only one of Trump's many Republican rivals in the GOP presidential primary, former Arkansas Gov. Asa Hutchinson, appears to have publicly supported the 14th Amendment challenge against Trump.
But in addition to never-Trump conservatives like Hutchinson and Orr — the former judge, who publicly quit the Republican Party in 2021 in protest of Jan. 6 — the idea is gaining steam among many liberal voters and groups.
Free Speech for the People, a Massachusetts-based political group, has already asked a handful of states to keep Trump off the ballot in the 2024 primaries and has plans to launch a wave of lawsuits in key states soon.
Ron Fein, the group's legal director, wouldn't confirm whether or when the group might file a North Carolina challenge against Trump. But he was heavily involved in the earlier challenge against Cawthorn. And the way that case ended, he said, was incredibly helpful for setting the stage against this new anti-Trump fight.
Cawthorn had tried arguing that an 1872 law granting amnesty to some Confederates also applied to any and all future insurrectionists. Thus, he argued, Jan. 6 couldn't be used to invoke the 14th Amendment against its supporters. The U.S. Court of Appeals for the Fourth Circuit rejected that argument as illogical, leaving the door open to future challenges like ones targeting Trump.
Fein rejected Bopp's claim that it's an undemocratic ploy. "We had that debate already, 150 years ago," Fein said. "And the people who took Jim Bopp's position lost when we added the 14th Amendment to the Constitution."
None of the four criminal cases against Trump allege that he committed the specific crime of insurrection — a fact his supporters say should prevent the 14th Amendment from applying to Trump. But it's not necessarily so simple. An 1869 North Carolina Supreme Court decision, regarding a pro-Confederate sheriff in Moore County who was banned from taking office after the war despite winning the election, found that the 14th Amendment doesn't require someone to be criminally convicted of insurrection. They just have to have supported or aided the insurrection.
A new GOP candidate?
Some Trump opponents hope a less complicated solution is in order: That GOP voters will simply choose a new candidate. Polls show Trump has a large lead in the primary polls, but some Republicans fear re-nominating Trump will make a second term for Democratic President Joe Biden more likely.
Americans For Prosperity, a conservative group with ties to libertarian billionaire Charles Koch, is spending millions of dollars on a new ad in key swing states — including North Carolina — urging conservatives to make sure Trump doesn't win the primary.
"The obsession with the 2020 election, revenge, and now the indictments — it's exhausting," an unidentified woman says in the ad. "And none of it helps us beat Joe Biden. It doesn't have to be like this. To beat Joe Biden, we have to move on from Donald Trump."
Voters made that decision with Cawthorn in 2022, but not with Greene. So Trump's opponents are hoping for a more permanent answer to the key question: Whether the former president's actions trying to stay in power despite losing the 2020 election should disqualify him from ever returning to power.
"The framers understood: If [insurrectionists] come back into power, they'll do the same — or worse," Fein said. "We saw what he tried to do the last time."
Bopp, Fein and Orr don't just have differing opinions on how and whether to use the 14th Amendment to ban a candidate from office. They also know the legal intricacies better than just about anyone in the country, having worked on opposite sides in the Cawthorn case last year.
Like Greene in Georgia, Cawthorn was accused of working with far-right militia leaders to help plan the Jan. 6 attack. Greene and Cawthorn have denied those allegations. Bopp said he's concerned the arguments against them could be weaponized in the future to ban politicians from office for the most minor of reasons.
"If a couple protestors went on the floor of the House gallery and started chanting, as left wingers have done, 'Stop global warming' or something — and they delay Congress for a few hours — that could be an insurrection," Bopp said. "... That's the most destructive, dangerous theory I've ever heard. And I've been practicing in election law for 50 years."
Timing could make it impossible
While Orr hopes the argument can be extended to stop Trump, he also acknowledged it's much harder to stop a presidential candidate, who's on the ballot in 50 states, than it is to get involved in a single U.S. House race.
And that's not even considering the fact that people's votes in presidential elections don't actually go to the candidate they vote for. Rather, they are used to guide how the state's members of the Electoral College should cast their own votes. Plus, the rules for how closely electors have to pay attention to their state's popular vote varies from state to state.
"There's this kind of convoluted national process," Orr said, adding: "The question becomes, do you have to challenge him in all 50 states? Or do you just do it once, and then let the Supreme Court decide, or what?"
Pat Gannon, a spokesperson for the North Carolina State Board of Elections, said no candidate challenges have yet been filed in the state against Trump or any other 2024 candidate. There is a broader question of whether the state's process for challenging a candidate is unconstitutional. Cawthorn made that claim in his lawsuit last year. But the process remains in place since Cawthorn's lawsuit ended prematurely because his loss made the legal issues moot.
Any attempt to keep Trump off the ballot in North Carolina or a different state, if it succeeds at lower levels of the courts system, is likely to eventually end up at the U.S. Supreme Court. Bopp said the process of all that litigation would likely drag on well beyond the election — which could go either in or against Trump's favor, depending on whether he's banned from running in 2024 while the courts sort out whether to permanently ban him.
Bopp is speaking from experience about how long all that high-level legal work can take; he was involved in litigating Bush v. Gore, when the high court handed a victory in the 2000 presidential election to George W. Bush.
"That was very difficult, and one of the key difficulties was the time crunch," said Bopp, who worked on the Bush legal team. "And that only involved two counties in a single state."