Spotlight
How an IB education can give your college-bound student an edge
International Baccalaureate programs are available in 33 public schools and three private schools across the state, but only in one private school in the Triangle.
Posted 2019-11-01T15:54:57+00:00 - Updated 2019-12-06T10:00:00+00:00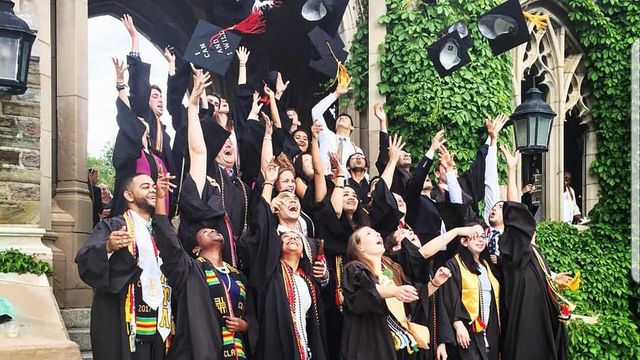 By Sara Paqueno , freelance reporter
This article was written for our sponsor, the Montessori School of Raleigh.
As a parent, you want your child to be able to excel from a young age and prepare for a bright future as an adult. For many, this means obtaining a college education, and eventually living a fruitful and impactful life.
To advance these goals, students are encouraged to take courses in school that are rigorous but right for them, whether that be Advanced Placement classes, dual enrollment classes at a local community college or classes in the International Baccalaureate Diploma Programme.
Currently, IB programs are available in 33 public schools and three private schools across the state. In the Triangle, there is just one private school, the Montessori School of Raleigh, that offers the IB Diploma Programme. If you're weighing the differences between IB and other college-level programs for your student, here are some reasons why an IB diploma can give your college-bound student an edge.
IB Educated Students Are Accepted to College at a Higher Rate
IB diploma students are typically accepted to prestigious colleges at twice the rate of other students.
"If Harvard takes two percent of students that apply, typically four percent of IB applicants would get into the university," explained James Taylor, head of the Montessori School of Raleigh's Middle and Upper Schools. "So the IB is a renowned credential, known internationally for its rigor and developing well-rounded students."
Added Dr. Kerr Ramsay, associate vice president for admissions at High Point University, "We want all students to show that they have challenged themselves academically in high school. An IB diploma is one of the best ways to demonstrate academic rigor. Success in an IB education is one of the best ways for students to show that they would excel [at a university]."
Ramsay continued, "Each school has its own process and priorities, but at High Point University we are looking for students who desire a values-based community, demonstrate academic growth, show a passion for learning and thrive in educational opportunities beyond the traditional classroom."
This means with an IB education, students are not only more likely to get into the Triangle's top institutions, but are also more likely to be considered favorably at prestigious private and public colleges and universities out of state.
They Are More Prepared for College
Part of the reason IB students are accepted at a higher rate than traditional students is the fact the program prepares students for the workload they will be receiving in college. With IB, students take six college-level courses over the last two years of high school. Each of the courses has significant writing components, requires students to do their own research projects and culminates in a rigorous exam.
"Students return from college and they say, 'My freshman year of college was easier than high school,'" Taylor said. "I have fewer essays and I'm prepared. When I have to read 75 pages for my college level biology class, I'm used to that reading load."
Oftentimes students find the transition from high school to college challenging, as universities follow a demanding curriculum that is squeezed into a single semester. Students who have earned their IB diploma are used to a rigorous workload and are better prepared for what they'll face in college.
They Are World Scholars
The point of an IB diploma is for students to receive a universal education no matter where they are on a map.
Caroline Farrell, current director of enrollment management at the Montessori School of Raleigh, previously worked in South Korea at the Dwight School, an IB World School. She champions the IB program because it has currency globally.
"IB was originally an idea that came from a group of teachers who saw diplomatic families moving from country to country, and IB wanted to create an educational program that would be seamless if a family transitioned from school to school," Farrell explained.
No matter where a student is located, they're learning about the world in the same, self-directed way that the Montessori method of education champions.
They Are Academically Well-Rounded
When Farrell was working in Manhattan, a teenage boy who was athletic and popular entered the IB diploma program. It was through that curriculum the student's extraordinary talent in art was discovered.
"Teachers were stunned," Caroline explained. "We had no idea we had such a gifted artist in our midst."
In the IB diploma program, each of the six subjects [language and literature, language acquisition, individuals and societies, experimental sciences, mathematics, and the arts) are weighed equally when it comes to a student's final score, meaning math and science are weighed the exact same as arts and English.
As part of the curriculum, students are also required to log community service hours and complete a 4,000-word essay on a topic of their choosing. Completing a 4,000-word research essay reassures any college that the student is ready for the rigors of higher education. It isn't surprising why universities award students with the IB credential college credit.
The IB diploma program also shows that it caters to many different types of students, including those who excel in art, but lack in STEM and vice versa.
The competition for spots in top-notch colleges and universities becomes more competitive every day. While there are few sure bets for tipping the scales in one's favor when it comes to college admissions, the data on acceptances of students holding an IB Diploma suggests a very clear advantage.
This article was written for our sponsor, the Montessori School of Raleigh.