News
The Creator Of 'The Sandlot' Has A New Film In The Works
Posted May 4
It's been 24 years since "The Sandlot" slid into movie theaters and into fans' hearts. Who can forget such memorable characters such as Smalls, Benny, Squints and the rest of the Sandlot kids?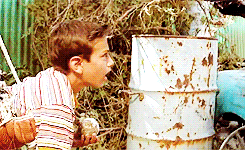 Well, brace yourselves because the original director and screenwriter of the 1993 classic film just announced a brand-new movie in the works!
'Sandlot' For 'A New Generation'
"The Sandlot" writer and director David Mickey Evans posted the news on his blog and social media earlier this week.
The next "The Sandlot" for a new generation. Based on a true story… pic.twitter.com/pa6sfUsMDM

- David Mickey Evans (@DMESandlot) May 2, 2017
The movie, tentatively titled "Junior Americans," is based on a true story. In his blog post about the film, Evans summarized the movie as:
Set against the background of American Little League baseball, it's a story about the power of friendship and the stresses, worries, difficulties and hard decisions that taking your first steps into the grown-up world put on that friendship.
Evans also added that the script is "funny as hell, too."
Can Kids' Baseball Movies Make a Comeback?
These days, it's hard to find any sort of kid-centered sports movies. Besides "The Sandlot," other baseball-themed movies such as "A League of Their Own," "Angels in the Outfield," "Little Big League," and "Rookie of the Year" scored well in the box office during the '90s. Since then, though, these kind of movies have been more like an underdog than a home run with film studios (2011's "Moneyball" aside).
During a recent CBS interview, Evans said his new script struck out with some executives. He shared the standard answer he's heard from studio representatives about "Junior Americans":
I found it charming but it's not something the studio can support. It's virtually impossible to get a baseball movie made today. The decline in video revenue and the increasing necessity of the international markets have pretty much killed the possibility for a movie set in the baseball world.
However, Evans believes the studios don't understand the success behind a baseball movie. "The Sandlot" was more about friendship than about baseball.
"If a story is about the human condition or relationships and they strike a chord, I don't think people care what the sport is," he told CBS. "Universal themes, by definition, will sell in China, France, Germany or anywhere else."
Evans may have had that "You're killin' me Smalls!" moment with the studios, but if his script is as good as "The Sandlot," then we're sure it will win the game in the end.
Haven't seen the film in awhile? You can buy the DVD for dirt cheap ($1.35) on Amazon right now.
This story originally appeared on Simplemost. Checkout Simplemost for other great tips and ideas to make the most out of life.
---